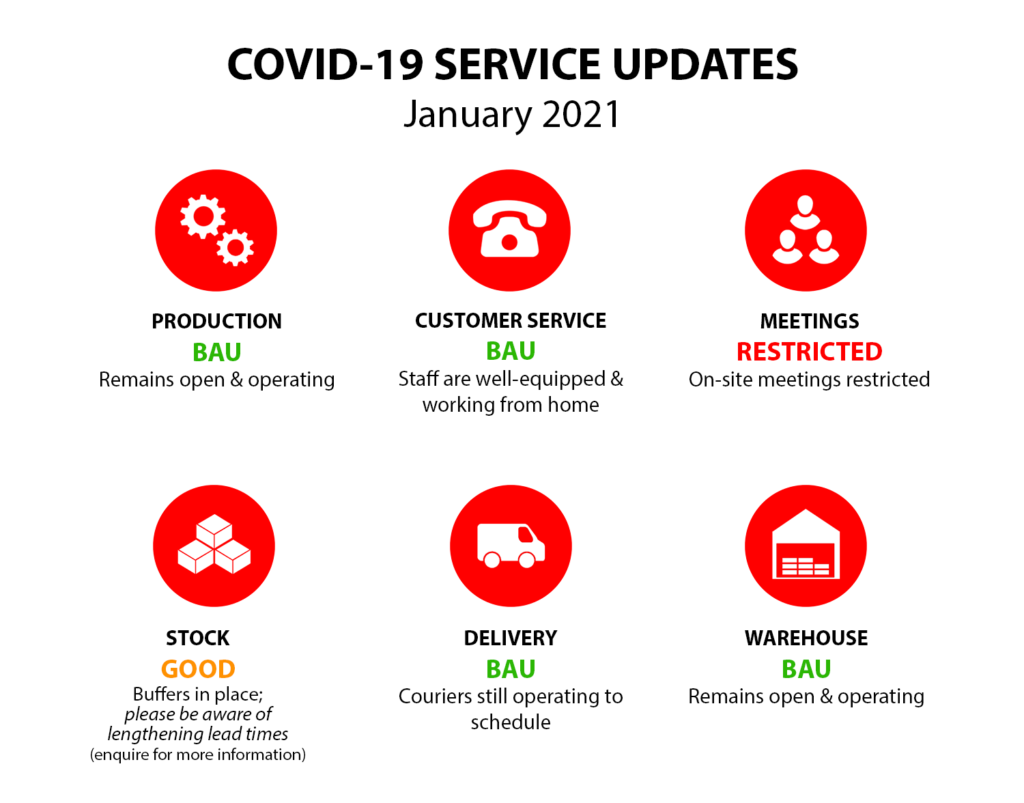 Please see below for the latest updates from Solid State Supplies and Manufacturers


Monday 23rd November 2020
Latest Official Statement From SSS
Despite the current lockdown Solid State Supplies continues to operate at full capacity with no incidences of Covid-19 and no interruption to shipments. Our OTIF rates (excluding credit holds) remain at over 99%.
Where possible staff have been equipped to work from home (92% of all staff) and are continuing to do so. Our warehouse staff have reverted to off-site rotation to ensure that fully trained members of staff will be available in the event of a Covid-outbreak and other external staff have been cross trained to step in should the need arise.
Significant efficiencies have been realised during this Covid period and these are expected to continue in the natural course of business beyond the pandemic.
The company continues to restrict visits to our various sites and has implemented strict protocols prior to entry to the buildings to ensure the safety of all our staff. Visits by employees to our customers and suppliers are strictly limited to those with an overriding need and are subject to satisfactory safety protocols being in place.
All or our buildings are considered to exceed the Covid-safety standards and minor changes to enhance or improve these safety measures are made at regular intervals.
The wellbeing of our staff remains our primary concern and the company continues to provide access to mental health support for those that may wish to take advantage of it. Social activities, albeit virtual, are continuing and are well attended. Morale within the company remains high despite the difficult circumstance in which we all find ourselves operating.
Should you have any questions at all related to our Covid security and operations then please do not hesitate to contact your internal sales representative.
We hope that you and your families are also keeping safe.
John Macmichael
Thursday 30th July
Official Statement From SSS
Solid State Supplies continues to operate at 100% of capacity and all suppliers are now shipping to schedule. We are seeing some lengthening of lead times on new orders and would consequently ask all our customers to check with either their field sales contact or their internal sales contact to verify delivery times on new orders. All quotes now reflect the new lead times and are as accurate as we can get given the changing information from our suppliers.
Solid State continues to work with its customers to ensure adequate buffer stocks are in place and would be pleased to hear from you if we can support you in this way. We are expecting some disruption as Covid-19 amplifies the effect of a potential hard Brexit at the end of the year. At Solid State we are fully prepared for the impact of Brexit and do not anticipate any difficulties however we are aware that many companies importing to the UK may not have experience of customs procedures and paperwork. This when combined with the Covid-19 capacity issues is likely to cause delays at all major ports and airports and in turn we expect to see freight costs rise again as ports become clogged and storage charges are applied. We would strongly recommend that you give consideration to your forward order book so that we can preposition stock in the UK for you at the end of the year and start of the new year.
Where possible and subject to certain safety procedures we are resuming customer visits to assist engineers with their designs and to update procurement specialists. All of our staff remain available for TEAMs calls and are happy to assist in any way possible. If you need an engineer or member of our field sales team to visit you please do not hesitate to make contact.
Finally, we are continuing to partner with key suppliers to provide on line training and updates and would encourage you make use of these free activities to stay abreast of the latest product introductions and innovations as well as to acquire new skills and expertise.
We look forward to hearing from you and trust that you and your families have escaped the worst of the Covid-19 pandemic.
John Macmichael
Friday 22nd May
COVID-19 Secure
Solid State Supplies has carried out a COVID-19 risk assessment complying with the governments guidance on managing the risk of COVID-19 in the workplace.
Friday 15th May
Official Statement From SSS
As Solid State Supplies and Pacer components have been operating at 100% since the lock down, the recent government easing of restrictions has had little direct impact. The businesses continue to run unabated. As you will have read previously ,our first priority has been to ensure the safety and wellbeing of our staff. This was done well in advance of the government enforced lockdown and our enhanced wellbeing programmes are providing support to our staff through these difficult times. Our agility and ability to equip staff to work from their homes has resulted in 78% of our staff as a whole and 94% of Solid States Supplies' staff working remotely with no reported drop in service levels. I am proud to be able to say that – in contrast to our competitors – we have almost zero furloughed staff across our entire distribution business.
It is now our intention to continue this agile working; preparations are being made at all of our sites across the country to make the necessary changes to ensure that those members of staff that prefer to work in an office environment can do so safely, when the time is right, whilst those that prefer to work from home can continue to do so in the knowledge that they will not become isolated. I believe that this continuation of agile working will result in us being able to provide even higher service levels.
Our technical teams have put together a number of seminars to ensure that we keep you abreast of the latest developments from our key suppliers. Please feel free to join these technical sessions. A listing can be found at https://www.sssltd.com/events/. There's never been a better time to bring your knowledge up to date.
Our suppliers and Franchises have worked with us to ensure that we have, and continue to maintain, continuity of supply. Our buffer stock programmes remain robust and the vast majority of our customers are now back at work. All of our major suppliers are operational and shipping. However, there have been delays caused by extended lead times and by extended transport times. I would encourage you to call your internal contact to check on lead times for any future requirements that you may have. All of our customer facing staff have been equipped with video calling through Microsoft TEAMS© so you can have that face to face meeting without ever leaving your desk. Please do call us, we are and always have been open for business and don't forget that our sourcing team are available to help with those products that have become difficult to find in this chaotic world.
Best Regards,
John Macmichael
Managing Director
Friday 17th April
Official Statement From SSS
Solid State Supplies is pleased to be able to report that it continues to operate at 100% capacity.
All staff, except for warehouse operatives, are fully functional from home. Warehouse staff continue to operate the warehouse at full capacity, on a rotational basis, for both inbound and outbound shipments.
All hygiene and social distancing measures are continuing, and PPE has been provided where appropriate. Morale remains high amongst all staff members and our virtual social-programmes are providing a welcome relief to the enforced confinement.
External sales teams are still operating, albeit from home, and our technical teams are working closely with customers' engineers on both existing and new projects. Various webinars and indeed hands-on-webinars (please see the events section of our website) are being organised to keep our customers' engineers up to date with the latest product developments.
Where we have been notified by our customers that they have been designated as a critical business, we have ensured that we prioritise our activity accordingly. We have further flowed these notifications down to our own supply chains to ensure continuity of supply. To date, stock continues be delivered to our warehouse helping us to maintain the necessary buffers to support you. In some exceptional cases, we have seen delays to incoming stock and where possible this is being proactively notified to you.
Our customer service teams are in place and despite being at home, their service levels continue to be very high. Please call your usual contact if you have a specific question.
In terms of our customer base, we continue to appreciate your support and would encourage you to keep a close eye on lead times as deliveries start to be delayed. To date less than 4% of our customers have notified us that they have closed, meaning that approximately 96% of you are continuing to run your businesses in these stressful times. If there is anything we can do to support you, please do make contact with us, whether that's technical support, an urgent requirement or even a requirement for hard to find parts. We are here to help and want to help.
Thank you for your support; stay healthy and we look forward to the day when we can once again see you in person.
Best regards,
John Macmichael
Managing director
Friday 3rd April
Official Statement From SSS
To Whom It May Concern,
I am pleased to be able to report that Solid State Supplies Ltd (Solid State) continues to operate at 100% of capacity. The measures that we have taken to ensure the safety of our staff and the continuity of our business are proving to be robust. Nearly all of our staff are equipped to, and have been, working effectively and efficiently from home for nearly 4 weeks now. This early response to the virus has so far paid dividends.
In terms of statistics, 96% of staff are fully functional at home; the remaining 4% are fully functional in our warehouse and value-added facilities. All measure to protect staff on site have been taken and to date our rolling isolation of these staff is working efficiently.
Many of our customers have contacted us expressing the critical nature of our business to the continued supply of medical equipment, and indeed equipment essential to the national security and infrastructure of the country. All of our staff are aware of the importance of the job that they do and are working diligently to ensure continuity of supply. Where we deem our suppliers to be critical to this work, we have flowed down the continuity of supply requirements and are receiving positive responses.
As per all previous communications, our customer service teams are operating as normal and moral remains high. If you have any concerns about your shipments, I would encourage you to please call your normal contact and get a specific update.
Finally, as the advert once said "It's good to talk", so please do pick up the phone and call. Human contact – all be it just a voice at the end of a phone line- is very important in these times of isolation and in this regard, we can all help each other.
Wishing you all a safe passage through these difficult times,
John Macmichael
Managing Director
Friday 27th March
Official Statement From SSS
I am pleased to be able to report that our advanced preparations continue to pay dividends. Solid State Supplies is still operating at 100% capacity with 95% of the workforce equipped for and working, transparently, at home. Warehouse staff continue to operate on a rotation basis with cross trained personnel ready to step in if the need arises.
We have experienced some delays to incoming goods but approximately 90% of incoming deliveries are still meeting commit dates. Carriers are still operating allowing us to meet shipment deadlines.
In some cases, we have decided to ship product slightly ahead of the requirement date but we are invoicing to the commit date. This is to ensure that customers receive product in good time without payment penalties and are able to continue some level of production even in the event that the availability of carriers is reduced. In return, we are asking all customers to please pay promptly to ensure that we can continue this level of service to you.
We have been notified by a small number of customers that they have closed their warehouses to incoming goods. If this is the case for you, please contact your internal sales exec to avoid unnecessary shipment returns.
For those customers that have contacted us and are designated as 'Critical Industries', I can assure you that we are in receipt of the notifications and that our employees meet the Government's present definition of key worker status for the purpose of supporting work that is considered essential during the Covid-19 pandemic.
Wishing you continued good health.
John Macmichael
Managing Director
Wednesday 25th March
Official Statement From SSS
Please read in conjunction with previous updates below.
We would like to reassure our customers that we are continuing to function at 100% capacity. ALL of our staff are equipped to work from home and with the exception of the warehouse staff; they have been doing so for over 10 days now, well ahead of the recent government announcements. To date, this has proved to be seamless and we trust that you, our valued customers and stakeholders, are able to contact us just as you were before this pandemic.
It is testimony to our IT team and the dedication of our staff that we can continue to bring you this uninterrupted service.
We have now received several letters from customers noting that they are producing equipment – vital to our medical services – and that in turn, the continued supply of product from Solid State is critical. All our staff are aware of the critical nature of the job that we do and even more so in this difficult period. Our warehouse staff are working with reduced numbers on site to ensure that if there is a case of infection in that team we can immediately (subject to a short closure for deep cleaning) bring in those members that are currently isolated. As a further precaution, many of our external sales team volunteered and were cross trained in our warehouse procedures many weeks ago. These volunteers will ensure continuity of supply, should it be necessary.
As previously reported we have seen some delays to incoming goods. Your Internal sales contact has the necessary details to keep you up to date. If you have any concerns please call them.
We recognise that much of our contact is with the engineering community. Consequently, over the coming weeks our technical teams will be running a number of on-line design based seminars to ensure that we keep you up to date with the latest product developments. Please feel free take advantage of these seminars.
Tuesday 24th March
Prime Minister's address of 23/03/2020
At Solid State Supplies, we are very aware that a lot of the products that we distribute are being used in electronic and optical medical equipment. Several of our medical customers have contacted us to ensure that we are continuing to ship product. I am happy to confirm that this is the case and that medical customers have been listed as a priority.
Currently all customers – irrespective of their end product – are being supplied and we expect this to continue. In some cases, we may ship product to you earlier than your request date. This allows us to keep a constant and measured workflow with the reduced staffing levels that we have available due to our isolation procedures. We will endeavour to ensure that your invoices are dated according to your request date but we would ask in return that you please pay promptly.
Staff at Solid State Supplies were fully equipped to work from home well over 10 days ago and have been doing so since that time. We are maintaining the minimum possible staffing level in our warehouse to ensure that we can both receive and ship goods to you. In the event that our warehouse staff are affected by Covid-19, we will bring back those fully trained warehouse employees that are currently being isolated at their homes and if necessary we will bring in staff that completed voluntary cross training on our warehouse procedures over 4 weeks ago.
More complete details of our emergency continuation processes are detailed in previous notifications below.
We continue to believe that we are well prepared, that we are stringently following all government guidance and that our early preparations for this situation will allow us to keep running the business until we are instructed not to.
Should you have any further questions then please contact your internal sales exec as normal.
Please be assured of our best endeavours at all times.
John Macmichael
Managing Director
Monday 23rd March
Friday 20th March
20.03.2020 Statement From SSS
As with every other business in the UK, Solid State Supplies is putting the health and wellbeing of its staff and their families at the forefront of our response to the Covid-19 outbreak.
We are however cognisant of the fact that businesses need to keep running in order to avoid hardship not only to our own staff but to the staff and families of our customers and suppliers.
At Solid State Supplies, we reacted early to the outbreak and where possible, we have equipped our staff to work from home. Currently 95% of our staff are home working. We have tested our systems to ensure that staff can access everything they need remotely to keep the business running; we have increased our remote access software licenses, extended our insurance cover and health and safety surveys, and provided wellbeing support. Our warehouse remains open and we are still shipping product. We have taken steps to ensure that at any time we have fully trained warehouse staff in isolation so that they can come back in if the need arises. We have cross trained our staff in various areas of the business so that we can cover all essential functions including the warehouse operations. From a customer service point of view, we believe that these changes should be transparent to both our customers and our suppliers. It is – as far as possible – business as usual albeit that we are working under very different conditions.
Until the government tells us otherwise, we will continue to keep the business running whilst protecting our staff.
For our supplier base, these are very difficult times; transportation costs are rising daily and the exchange rate is having an immediate impact. Our suppliers are based all over the world and consequently the situation for each one is different. If you wish to know the status of a particular order, then please call your normal contact. Our internal sales team will be able to tell you the current situation. Where possible, if we know of significant delays, we will endeavour to call you and let you know.
Nearly all of our suppliers have regular updates on their own web sites, we have not attempted to duplicate that information here but would encourage you to check the relevant web site if you have a specific concern.
Please don't forget that we are still here to help you and we intend to keep running the business, safely, during this very difficult period.
Finally, and most importantly we hope that you and your families remain well.
Wishing you all the best,
John Macmichael, MD
Wednesday 17th March
Friday 13th March
Thursday 12th March
12.03.2020 Statement From SSS
As I'm sure you would expect, our first priority is the safety and wellbeing of our staff, and we are taking measures to ensure that those considered to be vulnerable are protected to the best of our ability. Consequently we have introduced specific measures to protect staff, slow the spread of the virus and to allow our business to continue even in the event that our offices have to be closed.
To date we have seen no impact on supplies. We have contacted all factories and the majority are now running at approximately 80% capacity. We have not been notified of any expected or intended cancellations of our order book and we still have healthy buffer stocks on most key devices. As our business model dictates, we overstocked in anticipation of the Chinese New Year and are still able to supply from these buffers.
Our business continuity and disaster recovery plans have been updated to cover this latest situation, and specific actions have now been implemented. On a rotational basis, trained warehouse personnel are now required to be offsite for week long periods along with other key staff from other business disciplines, thus helping to ensure that healthy staff can be brought back if the need arises. Staff are being cross trained in other disciplines to assist where needed, if needed, and additional stocks have been ordered but not yet received. All internal staff are being equipped with laptops and printers to enable them to continue working from home.
We are now requesting that anyone thinking of visiting our various sites postpones their visit until a later date, and in turn we have asked all of our external teams to postpone visits to customers' sites, both for the safety of our customers and our staff.
Monday 24th Feb
Official statement from Alliance Memory can be found here.
Tuesday 12th Feb
Monday 10th Feb
There have been further updates from Kingtech – please contact our sales team to find out more +44 (0)1527 830800.
Thursday 6th Feb
Tuesday 4th Feb
We now have detailed updates from the following suppliers.
Giga Devices
Quectel
Wuxi
Robustel
Advanteq
SiLabs
Customers who have deliveries potentially affected by the unfortunate situation in China and the Far East have been contacted. If we have not contacted you then it is unlikely that your shipments have been affected. However if you wish to get a more detailed update then please feel free to call your customer service rep on 01527 830800.
Thursday 30th Jan, 2020 15:17

Some Manufacturers in China only have confirmed that they are closed until 9th Feb – other locations remain unaffected. Please contact +44 (0)1527 830 800 for more information.
Thursday 30th Jan, 2020

30.01.2020 Statement From SSS
As I am sure this is the case for everyone impacted by the Coronavirus outbreak in China as it is for everyone, here at Solid State we have nothing but concern and sympathy for the very serious situation in China right now. Like everyone else, we are hoping for a solution to be found to prevent any further suffering and for lives to return to normal.

There have been multiple rumours about the impact of the virus on shipments from China. At this stage, the only factual information we have is that the Chinese government has extended the spring holiday (Chinese New Year holiday) to the 2nd February. Some manufacturers may be closed up until the 9th however we will update this page once we confirm which companies that will be.


Solid State Supplies is currently trying to ascertain what – if any – impact the recent outbreak of coronavirus in China will have on our supply chain.


We have already taken steps to account for the Chinese New Year and have correspondingly increased our stock holding as we do every year. Our normal level of buffer stocks will protect our customers for some time but we recognise the importance of making business decisions based on fact.


We have to-date identified all shipments that are expected from China over the next 6 weeks. We are now in the process of trying to make contact with each of these suppliers. As you will appreciate, this is not as simple as it may seem as many factories have now closed completely.


If you have a specific concern about an order or a device that you have on order with us, then please do call our internal sales team who will be happy to give you the latest information that they have. In the event that we get any information that would cause us to have to delay deliveries, we will proactively call you to update you.


Please be assured of our best attention at all times.