The Digi EX15 LTE is a cellular extender that offers assured gigabit Ethernet and Wi-Fi connectivity for businesses where network downtime is not an option. When combined with a dedicated wireline connection, the Digi EX15 ensures ISP connectivity, maximum uptime and completely continuity for devices that must be 'always on'. This is vital in industries such as Retail, with devices like mobile kiosks, digital signs and POS systems.
Dual connectivity/failover is offered on top of the primary LTE connectivity. Additionally, the serial port can be used to provide out-of-band (OOB) management for remote, off-premise equipment.
The Digi EX15 remote mounting kit includes a battery pack for site surveys (to determine signal availability), a PoE injector for remote powering options, and a variety of mounting accessories designed to ensure the Digi EX15 is optimally placed for the strongest cellular reception.
There is an upgrade option for swappable 4G LTE plug-in modems and dual SIM support.
Features:
LTE-certified Digi CORE® LTE plug-in modem
Scalable cellular technology allows you to match speeds to applications and future proof your network
Optimised connectivity to any Ethernet device
Battery pack for site survey to identify optimal signal strength placement
Multiple mounting options and accessories
Serial port for remote, out-of-band management
Securely deploy, monitor and control devices with Digi Remote Manager®
Zero-touch provisioning and cloud management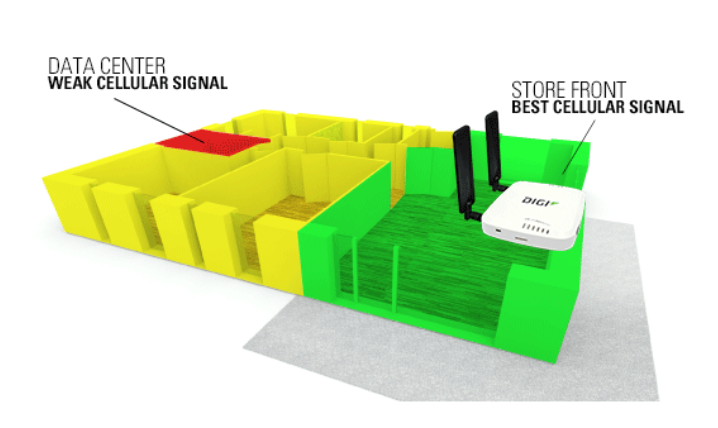 Install in Minutes Where the Cellular Reception is Strongest
Digi EX15 LTE cellular extenders can be used as a primary 4G/LTE data connection or as a backup network solution to streamline business continuity. By adding Digi EX15 to your network, any Ethernet device can utilise fast and convenient cellular data, and Digi EX15 can be located or mounted where the cellular reception is the strongest.
Upgrade with Swappable 4G LTE Plug-In Modems and Dual SIM Support
A suite of Digi CORE plug-in LTE modems allows customers to select the cellular connection that best meets their speed, budget, fallback-network and geographic requirements. The modular nature of the Digi CORE plug-in modem helps mitigate technological obsolescence by allowing customers to upgrade to newer LTE standards without replacing Digi EX15. When there is a need for faster connectivity users can simply upgrade their LTE modem while protecting the investment in their Digi EX15.