Choosing the right display technology has enormous impact on the design and user interface of a product or system. We provide a range of display technologies, and our application engineers can advise you on the pros and cons and help to identify the optimum technology for your project.
Our product range includes display panels, standalone modules, display monitors, panel PCs, handheld displays and tablets. We also offer custom display assemblies for when an off-the-shelf solution is not available for your requirements. Our design and engineering service provides customisation of displays for end applications, and we can help you to integrate your standard or custom display with a touchscreen, pcb, connectors and housings.
Within our Weymouth facility, we are able to undertake customisation of display panels, assembly of touchscreens in a class 7 cleanroom environment (with class 5 enclosure for critical builds), assembly of display modules into final housings, production engineering and test & certification.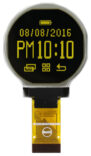 OLED
OLED displays are lightweight displays with excellent contrast, sharp images and a darker black background than other display technologies.
OLED displays represent a new generation in display technology. OLED display panels are made from organic light emitting diodes – solid state devices composed of thin films of organic molecules that create light with the application of electricity. As OLEDs emit light, they have the advantage of not requiring backlighting, making them ideal for handheld instrumentation, automotive displays, portable media players, audio visual display systems and mobile phones.
We offer a range of Mono OLEDs and Colour OLEDs which are easier to drive than TFT displays – a serial bus such as I2C or SPI can be used to control the pixel array, rather than a more complex RGB interface or microcontroller interface, and so far fewer control lines are needed.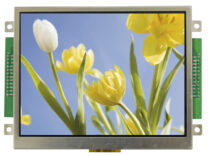 TFT LCD
We offer an extensive range of colour TFT LCD panels from 1.8″ through the popular 3.5″ and 5.7″ sizes to 82″. Our range includes sunlight readable panels from 5.6″ to 70″, bar cut panels, and SMART TFT displays with built-in control. We offer TFT displays with high brightness, high contrast ratio, wide viewing angle, wide temperature operation, longer lamp life, and lower power consumption.
TFT displays are used extensively in many industrial, commercial and scientific applications, including ATMs, POS terminals, kiosks, security systems, lottery and gambling gaming machines, medical equipment, factory automation, digital advertisement signage, transportation information, and marine equipment.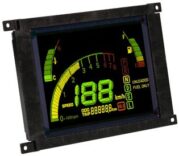 Electroluminescent (EL)
EL displays are built for demanding conditions including cold, heat, wind, dust, vibration, sunlight and even G-Forces. These electroluminescent panels retain more than 75% of their original brightness after more than 100,000 hours of operation, making them ideal for a long term design.
The technology offers unparalleled image quality in a wide range of challenging visual conditions and applications. The rugged nature of electroluminescent technology means that the displays can work between -40 ~ +80 ° C. The panels offer high brightness and contrast with a wide viewing angle of >160 °. EL also benefits from fast response time, small package sizes and low EMI emissions with reduced power consumption.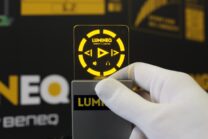 Transparent EL has exciting design possibilities in the retail, automotive and medical sectors and is being chosen for a wide variety of vehicles and transportation systems – including tractors, trains, trams and motorcycles. The technology is winning designs thanks to long lifetimes, high brightness, wide operating temperature range and ultra ruggedness.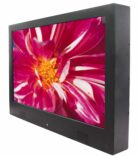 Industrial Monitors
Our Industrial Monitors range includes Open Frame, Chassis, Panel Mount and Rack Mount Monitors, Sunlight Readable Displays, and IP rated and Marine Grade displays. Sizes range from 5.7″ to 65″. Touchscreen options are available on most models, including projected and capacitive touch, resistive touch and SAW touch.
All of our industrial monitors are extremely hard wearing and hard working, with robust mechanical design and advanced communications capability.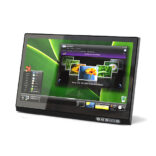 Panel PCs
We offer industrial Panel PCs to meet the demands of embedded solutions in a wide range of applications.
A panel PC is an industrial display and industrial PC integrated into the same housing – making installation into an end system much easier. Many form factors are available including panel mount, rack mount, open frame and chassis monitor.
We also offer rugged Panel PCs designed to withstand hazardous environments including full IP65 and IP67 and marine bridge systems.