Map Unavailable
Date/Time
Date(s) - 17/06/2020
9:00 am - 9:45 am
Categories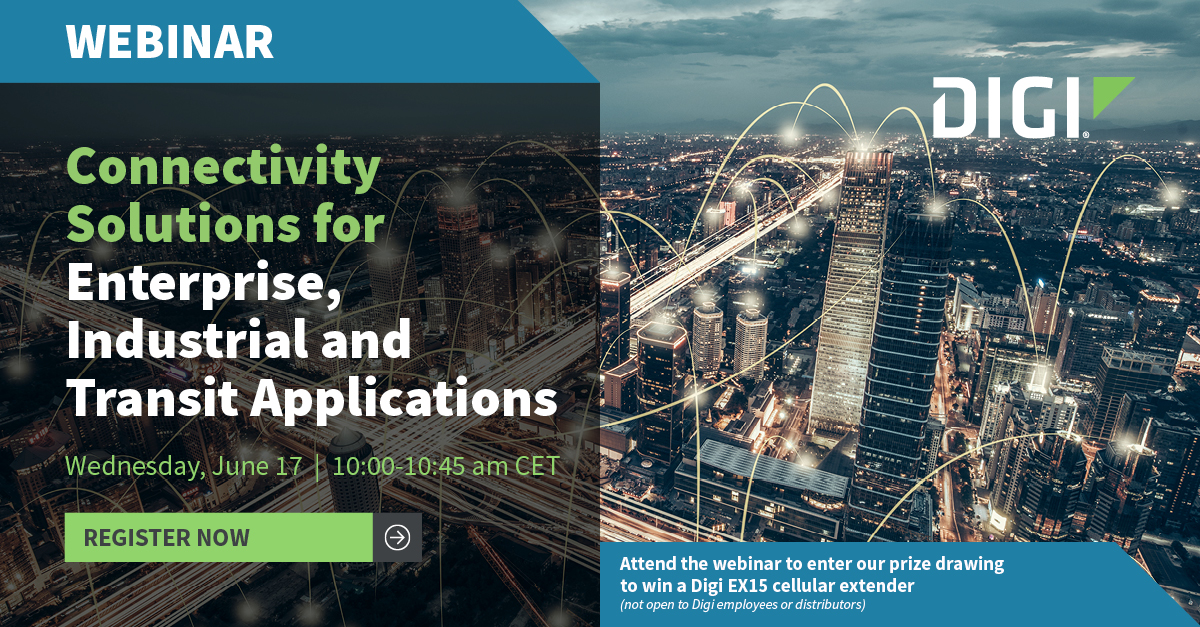 This webinar features a promotional draw for attendees to be in a chance to WIN Digi products.*
Presenters:
Alistair Craven, Director – Sales Engineering; Digi International
Michael Pohl, Principal Technical Sales Engineer; Digi International
June 17, 2020 – 09:00-09:45 am BST
Learn how to choose the right cellular router for your use case, from indoor enterprise cellular extenders to industrial and mobile cellular routers for rugged and remote uses.
Today, businesses know the most critical applications require cellular connectivity with the highest security and reliability. Traditional methods of relying on human interaction are expensive, time-consuming and inefficient and can be both challenging and risky – for example, when needing to access devices in traffic lights, remote tanks, oil derricks, construction zones and railway cars.
From legacy 2G/3G migration solutions to 4G LTE, LTE-Advanced and 5G-ready functionality, Digi offers a range of proven, purpose-built cellular routers and extenders. These solutions deliver high-performance connectivity in a wide range of commercial and industrial applications where wired connections are difficult, expensive.
This informative, 45-minute webinar (followed by Q&A) will show:
The widest range of best-in-class routers for the widest variety of applications and environments, with security, reliability and scalability
The rich feature set of these products offered by a vendor with a long history of in-field performance and supply chain
The flexibility of DAL – Digi's Linux-based OS – built into all new platforms, across all market segments and applications
Digi Remote Manager – a remote management platform for rapid device deployment and easier asset management, including mass firmware updates, network monitoring and automated security
Examples of European customer applications that have leveraged the benefits of Digi's cellular routers to give the best ROI on their project roll-outs.
*Promotional draw not open to Digi employees or distributors