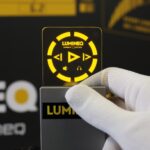 TASEL is a range of completely transparent electroluminescent displays from Lumineq. Transparent EL has exciting design possibilities in the retail, automotive and medical sectors and is being chosen for a wide variety of vehicles and transportation systems – including tractors, trains, trams and motorcycles. The technology is winning designs thanks to long lifetimes, high brightness, wide operating temperature range and ultra ruggedness.
Just like standard EL displays, TASEL units are built for demanding conditions including cold, heat, wind, dust, vibration, sunlight and even G-Forces. These electroluminescent panels retain more than 75% of their original brightness after more than 100,000 hours of operation, making them ideal for a long term design.
---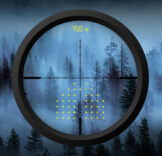 The new ELT119S-RETICLE is a transparent digital reticle that enhances riflescopes with smart features.
Transparent displays from LUMINEQ bring dynamic reticle and digital information into the line of sight without sacrificing the optical quality or reliability of the scopes.
Ultra-rugged with excellent transmission and optical properties, the ELT119S-RETICLE allows line-of-sight deployment at the focal point. The transparent digital reticle display glass is cut to a round shape ready for integration into the line of sight of optics. Find out more about this innovative new product.
---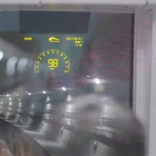 Chengdu's metro line 9 is SW China's first fully-automated driverless metro, and features an open cockpit and Lumineq powered head-up display. Lumineq's robust and transparent head-up display is laminated into the metro's windshield to show speed, date and time information.
Lumineq has also showcased a Ford F-150 windshield with a "gauges in glass" head-up display showing digital information. This is not a typical head-up display based on a projection system, but a robust transparent display laminated in the windshield, known as in-glass display. The display gives up to 1500 nits which is brighter than any projected HUD. Manufactured on a glass substrate, the display has a very fast response rate of 1 ms which is independent of temperature, and does not suffer degradation in humidity or UV exposure, making it ideal for any type of exterior glass application.
---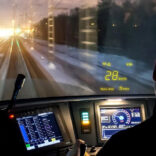 Lumineq has a successful partnership with Honda, the world's largest motorcycle manufacturer, as a technical sponsor for the Honda racing team, who won the Dakar Rally competition twice, in 2020 and 2021. In an excellent demonstration of the ruggedness of this technology, Lumineq transparent TASEL displays were used to show technical information to the motorcycle riders in the world's toughest rally.
---
Transparent EL Displays Featured Products