A Message From Our Technical Director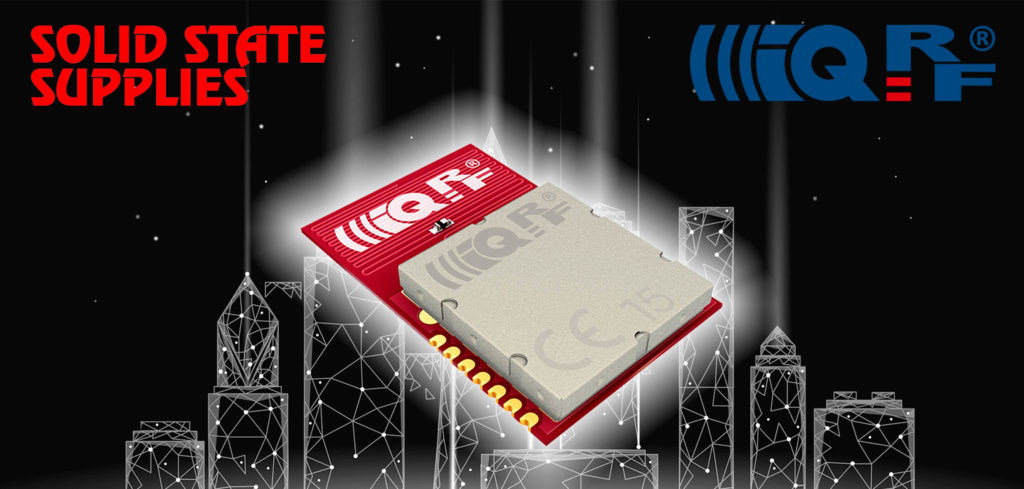 In the ever-growing world of the Internet of Things (IoT), Solid State Supplies are continuously building relationships with new IoT experts to strengthen our offering of IoT solutions. We have now partnered with IQRF UK – for smarter, mesh networks.
A message from our Technical Director, Richard Bethell:
"IQRF's Easy Radio Solutions from Solid State Supplies.
I was recently introduced to the ISM band transceiver module range from IQRF as I've spent a great deal of my career in the RF Communications module business. At first, I thought that was just a run of the mill style module but after further investigation I was pleasantly surprised. IQRF have done a really neat job with this module in terms of its format and usability. Measuring 31.5mm x 14.9mm the TR72-DA on-board antenna version (also available with U.FL connector for external antenna) the module has variants that slot into a full size SIM holder or solder down onto the PCB, they also have a vertical mounting version that's very popular in the lighting industry. Features include Spirit1 based 868/915 MHz RF Transceiver, receiver sensitivity of -101dBm and transmit power of 10dBm (10mW) with integrated PIC MCU, offering 6 programmable I/O pins, versions with or without Ultra Low Power CMOS LDO, and on-board status LED's.
Operating current is low Deep Sleep 1.7uA, RF Ready 2.8mA, TX current 8.3 to 25mA depending of the transmit level set.
Operating Voltage with on-board LDO is 3.1 to 5.3v with an operating temperature range of -40 to 85degC.
These modules can operate in various modes, point to point, point to multipoint or wireless mesh and all these modes support FOTA (firmware over the air updates) or programming via their SPI port.
The module has a very complete development kit that comes in two boxes; Box 1 includes 3 USB boards, one for programming and two rechargeable battery powered boards as external nodes plus three TR72DA modules with integrated antennas, a USB charger / programming cable and USB Key with documentation. Box 2 includes I/O adaptor modules one with Potentiometer, LDR, Temp sensor and the second relay adaptor module, both of these connect via a strip of pins to the Box 1 RF modules. Box 2 also contains a 3rd rechargeable battery powered remote node that can be used in a point to multipoint or mesh configuration.
The Dev Kit is also supported by a very comprehensive IDE with an easy to use GUI interface.
We have tested these modules with external antennas and achieved a communication distance of 672m LOS with 10mW transmit power into two Stealth Blade Antennas. They also worked extremely well around an old building through multiple very thick brick walls."
Target applications: Smart City, Building Management Systems, Street Lighting / Street Equipment, Smart Agriculture and many more.
If you would like to find out more about IQRF UK, please get in touch using the form below.