Low Power Sensor to Cloud Training Week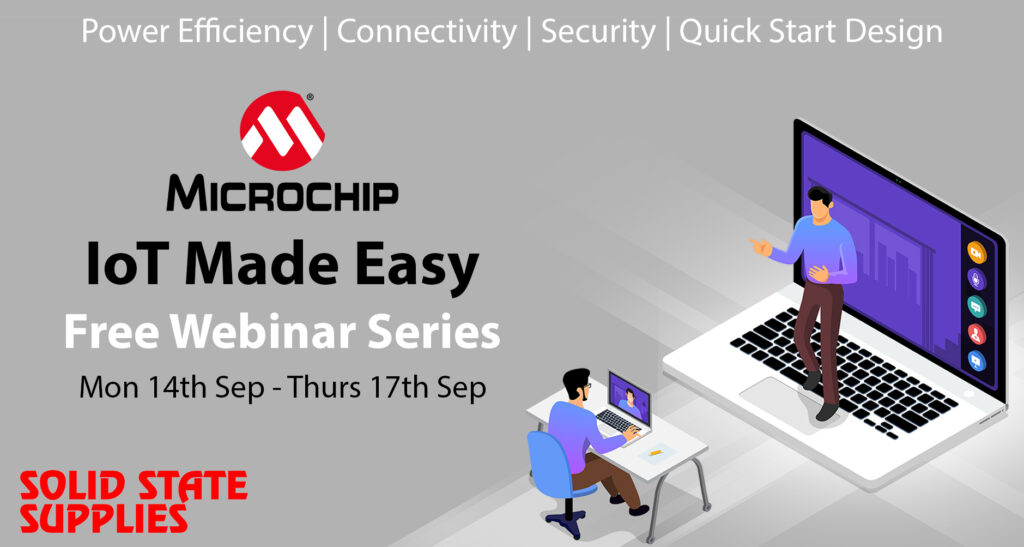 Microchip are hosting a series of FREE live 'IoT Made Easy' webinars in September to guide you through IoT system design and challenges, from the sensor all the way to the cloud. The webinars will be held from Monday 14th September to Thursday 17th September with live Q&A with 6 Microchip experts so you can explore any obstacles that you may be facing.
Webinar 1
Monday 14th Sept: Designing Power Efficient Solutions for Your IoT Sensor
IoT demands a lot from sensors; Engineers need to add more functionality from data security to sensing of additional environmental characteristics. Artificial intelligence (AI) or machine learning (ML) is also increasing and must be supported. This increases the demand for power which means sensor battery life needs to be extended.
Find out how to optimise the design of your sensors to minimise power consumption right down to the last µA.
Webinar 2
Tuesday 15th Sept: Connectivity Made Easy for Your IoT Sensor
Communication is one of the biggest challenges in sensor design. Make the wrong decision and you might have problems navigating the many dynamic regulations in the world; fighting lack of scalability and agility of the technology you chose; exceeding power budgets or space limitations; failing to ensure communications security or building-in costs that make your product uncompetitive.
Learn the right way to pick the best communications technology for your IoT sensors.
Webinar 3
Wednesday 16th Sept: Security
Cyber Security is not a choice! New regulations like EN 303-645 are making security essential around the world. There are many myths on how best to secure your data.
Keep up to date on the latest regulations and the best way to approach Cyber Security in a low power design from sensor to the Cloud.
Webinar 4
Thursday 17th Sept: IoT Design Quick Start with No Compromises
This webinar explains how to start developing complex IoT designs quickly and easily. The session considers the benefits of starting with a Single Board Computer (SBC) such as the Raspberry PI or Arduino as a Proof of Concept (PoC), and compares this approach to using simple development solutions that are design to scale to an industrialized product without compromise.