The new Digi ConnectCore® 8X System-on-Module (SoM) is now available to order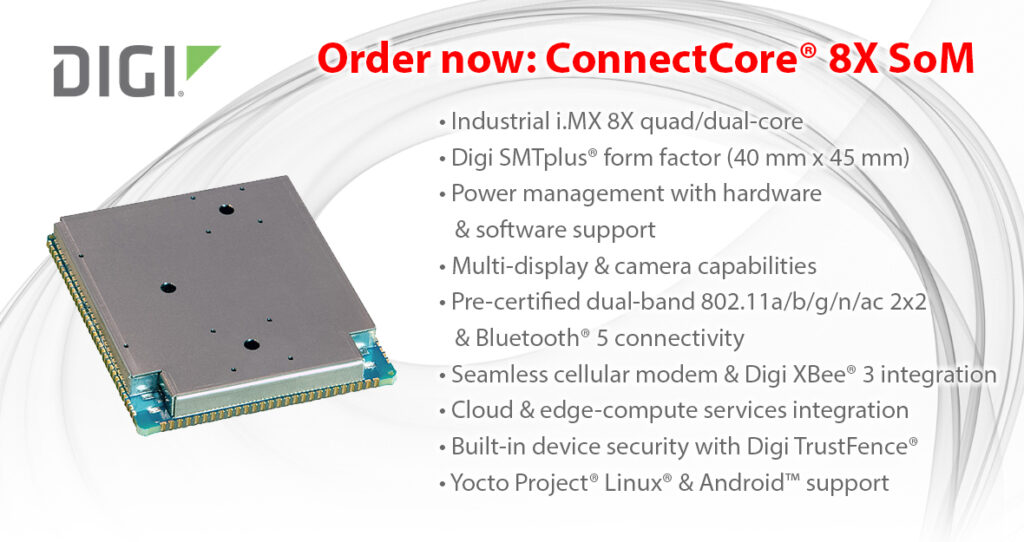 The Digi ConnectCore® 8X SoM is a highly integrated system-on-module solution based on the NXP i.MX 8X with scalable dual/quad-core performance. The Digi CC8X is ideal for IoT applications, including – but not limited to – Industrial, Medical, Transportation and Agricultural markets.
The compact sized module includes WiFi, BT, USB port, Digi XBee® RF connector and cellular connectivity options, multi-display/camera and audio support, external storage and expansion connectors.
Features:
Industrial i.MX 8X quad/dual-core SoM and SBC platform family
Digi SMTplus® form factor (40 mm x 45 mm) for ultimate reliability and design freedom
Power management with both hardware and software support for low-power designs
Multi-display and camera capabilities with hardware acceleration
Pre-certified dual-band 802.11a/b/g/n/ac 2×2 and Bluetooth® 5 connectivity
Seamless cellular modem and Digi XBee® 3 integration
Cloud and edge-compute services integration
Built-in device security with Digi TrustFence®
Yocto Project® Linux® and Android™ support
Speak to one of our team for more information and order now.