We recently announced our latest partnership with LORIOT: a global IoT company providing long-range (LoRa) infrastructure for the Internet of Things (IoT). As both a software provider and network provider, LORIOT's positioning in the LoRa® ecosystem enables them to provide one of the most powerful and complete solutions in the market.
Their core product is a software for scalable, distributed, resilient and secure operation of LoRaWAN® networks and end-to-end applications that dramatically reduces time to market for clients. They offer the network infrastructure to set up, operate and maintain a radio network, integrate sensors and communicate with them over a secure and reliable network.
Already operating in over 140 countries, LORIOT is one of the leading LoRaWAN® network solution providers worldwide.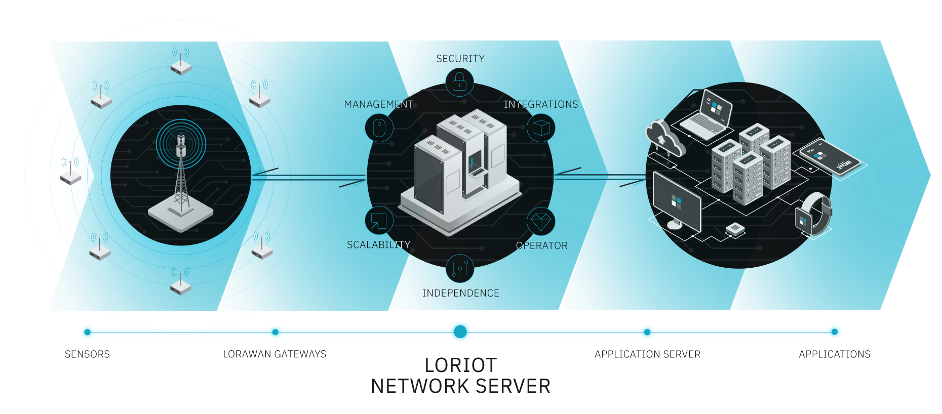 LoRaWAN Network Server
The Network Server is at the core of an Internet of Things solution; secure, scalable, carrier-grade network connectivity for your valuable IoT data.
The LORIOT Network Server has built-in penetration tested security to safeguard your valuable IoT data.
Enterprise-grade network infrastructure enables the operation and management of IoT networks while providing proven reliability and scaling. Secure connectivity for thousands of gateways, millions of devices and the routing of critical data.
Top Features
Security
IoT security at every stage of your product life-cycle with enhanced, resilient end-to-end encrypted bidirectional data and device protection. Including LoRaWAN® AES 128 encryption combined with high-grade TLSv1.2 communication, LORIOT build battle-tested security into the network server to safeguard your IoT data and assets.
Scalability
A server architecture designed to grow with the network, from local deployments to national coverage, our network infrastructure and server distribution provides robust availability of all data. Carrier-grade redundancy, high-availability and minimal maintenance guarantees the handling of thousands of gateways and millions of devices.
Integrations
Flexible access to data, LORIOT network applications integrate with virtually any IoT application. They enable easy interoperability with IoT platforms, user and billing systems or device provisioning at the application server. Standard APIs such as MQTT, HTTPs and WebSocket are supported, and fully backend integrated platforms such as AWS IoT, Azure IoT, IBM Bluemix are available.
Management
A complete network infrastructure and software suite; enables the efficient management of your IoT network. A user-friendly web browser interface removes the complexity of scaling, managing devices and processing data so that you can focus on building the network. User management, roles and multi-tenancy streamline the server for efficient network and user organisation.
Operator
A wide feature-list of operator systems for effective IoT network deployments; monitoring, logs, alerts, and powerful tools such as remote gateway management and multiple application outputs provide data regulation and valuable status information. Plus, filtering and search tools to rapidly analyse the network and find anomalies.
Independence
LORIOT hosted or on-premise, our network server deployment is designed to meet your use-case and give you complete control. When security and control are critical, their flexible network server deployments offer complete independence to manage your data. LORIOT hands over full control of your server and are always ready to support when required.
Speak to one of our experts to see how Solid State Supplies and LORIOT can mean for your business.