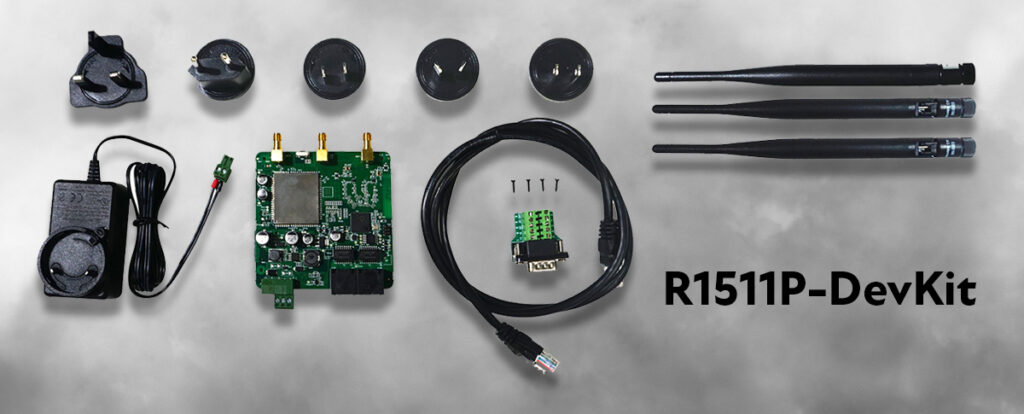 The Robustel R1511P Development Kit contains all the parts required to evaluate the suitability of the R1511P embedded 4G router for integration into custom applications.
The R1511P-DevKit features:
The R1511P embedded router: a small footprint powerful 4G router board, fully customisable in software
Dual Ethernet, Wifi (AP and client) and 4G/3G/2G capability
RS232 (default) or RS485 port for connection to serial devices + integrated Modbus gateway
Pre-certified PCB means that manufacturer certification challenges are minimised
Fully programmable Linux environment with excellent SDK Documentation
Can be connected directly to Raspberry Pi or similar low-cost embedded PC for internet access
"Smart Reboot" included for enhanced Roaming SIM management
Bulk packaging + shipping options to minimise addition to customer BOM cost
Free Cloud platform with API
The R1511P Embedded Cellular Router
The Robustel R1511P is a fully featured embedded 4G router designed for IoT applications such as EV charging, traffic signs, vending machines, medical instrumentation, industrial instrumentation, and many more.
Embedded routers can offer a combination of both cost and size benefits compared to traditional routers; the R1511P is a cost-effective, small footprint board with Ethernet WAN, Wi-Fi WAN and 4G WAN interfaces, which can all be independently configured in the powerful onboard Operating System – RobustOS.
RobustOS is Robustel's Linux based router operating system that offers functionality that could save a software engineer many months to write and test.