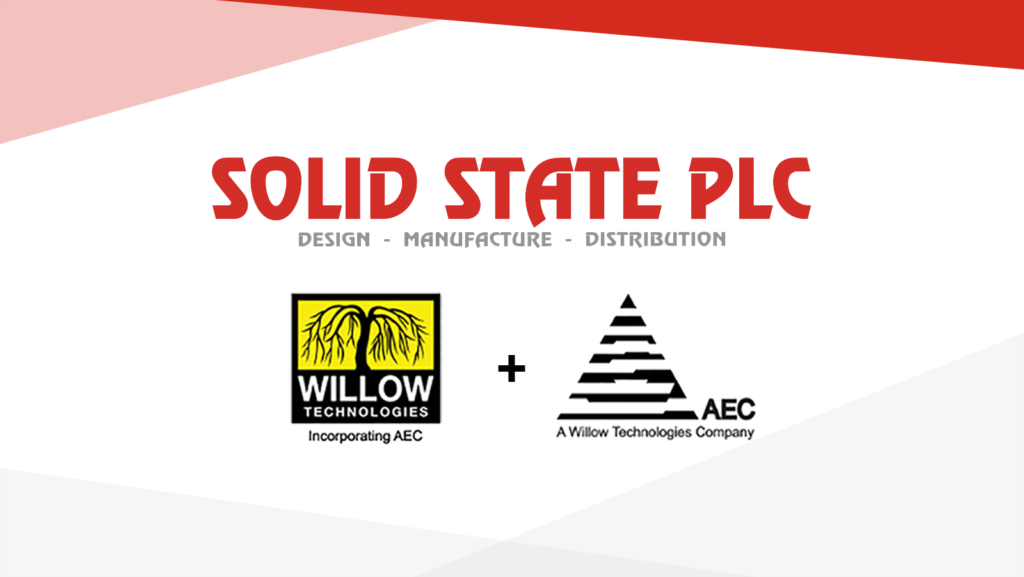 We are excited to announce that Solid State plc has completed the acquisition of Willow Technologies Ltd and its US based subsidiary American Electronic Components Inc (AEC).
Founded in 1989 and based in West Sussex, Willow Technologies specialises in switching, sensing, resistive and hermetic seal solutions. AEC is based in Elkhart, Indiana and has a long heritage of designing and building high current switching devices.
As a manufacturer and value added distributor of electro-mechanical products, WT/AEC will make a great addition to the group's Value Added Services division, significantly enhancing our business offering for electric vehicle, EV charging, green tech, medical and military markets.
The acquisition of WT/AEC enhances the breadth of the group's offering and supports the strategic objective of increasing geographic reach with over 70% of revenue derived outside of the UK. AEC provides a mature and respected platform within the USA giving critical mass to the group's existing American business.
Solid State Plc
Commenting on the acquisition, Gary Marsh, Chief Executive of Solid State, said:
"It is very unusual to find a company that so clearly meets the strategic imperatives that we have set for the Group. This acquisition of Willow and AEC dovetails nicely into our Value Added Supplies business, increasing our geographic reach and own brand products whilst providing a springboard for growth in the USA. I'd like to take this opportunity to welcome the teams at both Willow and AEC into the Solid State Group of companies."
Willow & AEC
On behalf of WT-AEC Mark Del Giudice, managing director responded:
"By joining the Solid State Group, we have become part of a dynamic organisation which shares our approach to providing niche products to new and developing growth markets. Our product portfolios complement one another and we will work together to ensure growth for both our business partners and our staff. I look forward to the next chapter of our business development and becoming part of the Solid State Group's future."