Map Unavailable
Date/Time
Date(s) - 19/10/2021 - 20/10/2021
10:00 am - 4:00 pm
Location
Ricoh Arena
Categories
Solid State Supplies will be exhibiting at the Engineering Design Show (EDS) as a headline sponsor.
EDS is the UK's only event entirely dedicated to engineering, electronics and embedded design. The show provides the ideal environment for design engineers to benefit from direct access to the latest products, services and innovations available to the sector.
Workshops
We have four workshop speakers this year – from our own Engineering team, Inseego, Digi and Microchip – to discuss the latest product technologies and trends, and how it can put businesses ahead of the game.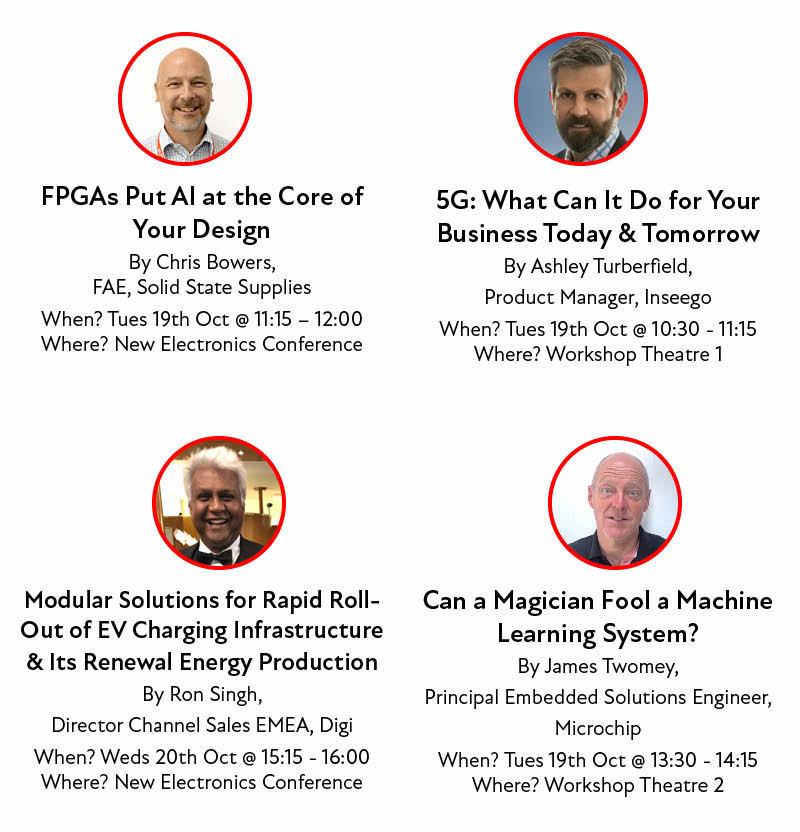 Product Demos
Our team will have various product demos on our stand K2, including:
Digi ConnectCore 8x
Digi International are leaders in providing processor and wireless solutions for secure connected IoT applications. Digi offers NXP based i.MX8 series and i.MX6UL System on Module and Single Board Computers solutions.
With LCD display and camera capabilities and hardware graphics acceleration, this technology can enable feature rich product functions as well as secure connectivity.
A demonstration of the processor capabilities is to be shown at EDS with an AI enabled application developed by Bytesnap running on the Digi CC8x SBC fitted with a camera and AUO 15.6" 1920×1080 FHD LCD display. The Bytesnap application utilises a level of AI to recognise your arm gestures to direct the shots from the cannon on a pirate ship game demo by Bytesnap Design onto its target.
This demonstration shows the processor being able to decode the camera images and translates this into actions in realtime, whilst generating the corresponding graphical display output.
The CC8x SBC demonstrated can also provide connectivity using pre-certified dual-band 802.11a/b/g/n/ac 2×2 and Bluetooth® 5 connectivity as well as 2 x Gigabit ethernet connections. When operated with Digi's Digital Remote Manager (DRM), the CC8x is an ideal choice for the next IoT Edge Compute design.
Microchip AI FPGA Development Board
Showcasing Microchip's Polarfire FPGA development board running an Artificial Intelligence demonstration, the board will be connected to a live video input that is inspected by the AI engine running on the FPGA for object recognition.
The objects are identified tagged and displayed on a screen in real time. This shows how low power FPGA devices can be used at the heart of Machine Vision and other AI applications. This is linked to Chris Bower's workshop at EDS 'FPGAs Put AI at the Core of Your Design'.
Mitsubishi's Electric Diode InfraRed Sensor (MelDIR)
Mitsubishi delivers high-pixel, high-thermal-resolution images. ESPROS' TOF Imager chips, modules and miniaturised 3D cameras are based on the principle of Time-of-Flight (TOF). OmniVision's best-in-class CMOS image sensor technology enables their image sensors and miniaturised camera modules. See all 3 in action side by side to compare the results.
Optotune's Fast Focus-Tunable Lenses
Optotune uses adaptive polymer-based optics to provide a smart, low-cost, high-quality alternative to traditional optics. Systems can be more compact, more robust, with fewer lenses and less or no translational movement, meaning less power consumption and lower costs.
OVMed® Cable Modules from OmniVision
OmniVision cable modules provide high image quality with minimal artefacts, for the transmission of images within endoscopes. These cables are optimized for small module size, thin diameter, flexibility, mechanical robustness and cost, and electrically shielded for EMC and EMI. We'll show them in operation with an OVMed ISP Image Processing Unit, offering a complete camera subsystem hardware solution.
Silicon Labs AEA Demo
Bluetooth 5.1 introduced support for Direction Finding to provide a standard protocol for radio-based Real Time Locating Systems (RTLS) by adding the option to send and receive Constant Tone Extensions (CTEs) after Bluetooth packets. This makes it possible to do phase measurements on antenna arrays and ultimately to determine the direction of an incoming signal.
Using Silicon Labs popular ultra-low power Cortex M33 based BG22 BLE radio we will demonstrate how the direction of an incoming signal can be monitored in real-time using their low cost BG22 Thunderboard and BG22 Antenna Array Board using the software support they provide in their Bluetooth Software Development Kit.
4G/5G/LoRa Routers & Gateways
Solid State Supplies will be showcasing a range of routers and gateways covering 5G, 4G and LoRa applications. The range of solutions are for both internal and external applications, as well as an array of industrial solutions for the most demanding environments. We will also include demonstrations of how to remotely access the devices, and your assets from anywhere in the world using cloud bases software.
If you are looking at ways to access assets on rail, bus, digital signage, TCP/IP, Wi-Fi, MODBUS, MODBUS over TCP/IP or simple telemetry remotely, our range of gateways and routers will include the right solutions for your application.
Come and talk to the team who will be happy to walk you through the range – from 5G to LoRa – with our live demos, top help take you data from edge to the cloud.
And many more demos