IGLOO2 FPGAs Offer More Resources in Low Density Devices with the Lowest Power, Proven Security and Exceptional Reliability.
These flash FPGA devices are ideal for general purpose functions such as Gigabit Ethernet or dual PCI Express control planes, bridging functions, input/output (I/O) expansion and conversion, video/image processing, system management and secure connectivity. Microsemi FPGAs are used by customers in Communications, Industrial, Medical, Defense, and Aviation markets.
IGLOO2 FPGAs offer 5K-150K LEs with a high performance memory subsystem, up to 512KB embedded flash, 2 x 32 KB embedded static random-access memory (SRAM), two direct memory access (DMA) engines and two double data rate (DDR) controllers.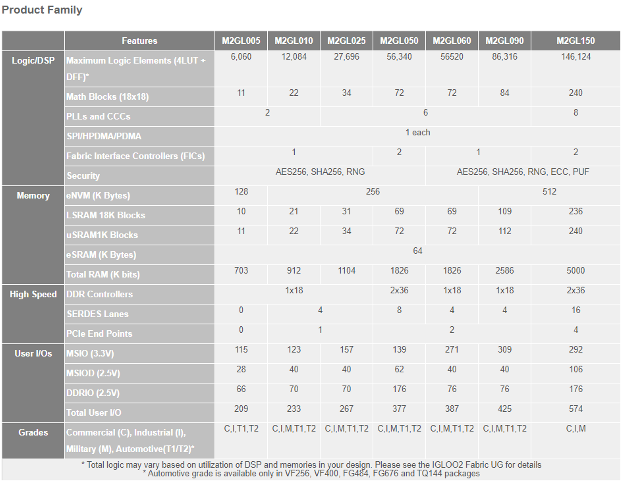 ---
Lowest Power
✔ Reduce total power by ~20-40%
✔ 70mW per 5G SERDES (PCIe Gen2)
Proven Security
✔ Protection from Overbuilding and Cloning
✔ Secure Boot for FPGA & Processor
Exceptional Reliability
✔ SEU immune Zero FIT Flash FPGA Configuration
✔ Reliability safety critical and mission critical systems
---
IGLOO2 FPGA Licencing
Different FPGA software licence schemes are available to suit your requirements, with a range of included features and validity periods. Find out more here or contact us if you need assistance selecting the right licence for your application.
---
Featured Products