PolarFire cost-optimised FPGAs deliver the lowest power at mid-range densities with 12.7 Gbps SerDes transceivers as well as best-in-class security and reliability. They offer unprecedented capabilities and value with 10G transceivers, advanced I/Os, security and DSP capabilities while maintaining all the advantages traditionally associated with non-volatile FPGAs such as static power, security and single event upset (SEU) immunity.
PolarFire FPGAs are ideal for a wide range of applications within wireline access networks and cellular infrastructure, defence and commercial aviation markets, as well as industrial automation and IoT markets.
Get started with your design today by downloading the Libero SoC PolarFire Design Suite and ordering a PolarFire development kit that best matches your needs.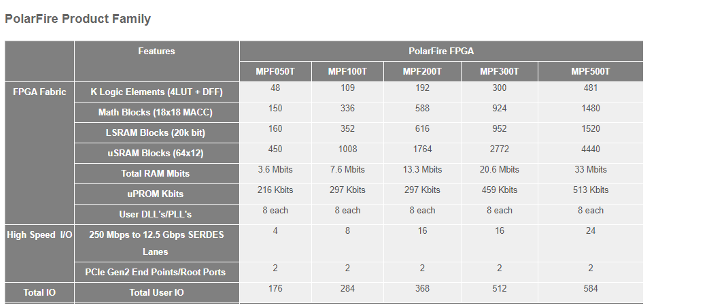 Cost-Optimised Architecture
Architecture and process optimisations for 100K/500K LE devices
Transceiver performance optimised for 12.7 Gbps, which yields smaller size
1.6 Gbps I/Os supporting DDR4/DDR3/LPDDR3, LVDS – hardened I/O gearing logic with CDR (supports SGMII/GbE links on GPIOs)
Best-in-class high-performance, hardened security IP in mid-range devices
Power Optimisation
The lowest static power—1/10 static power vs. competing devices
Transceiver optimised for 12.7 Gbps, which yields 1/2 the power vs. competing devices
Integrated hard IP—DDR PHY, PCIe endpoint/root port, crypto processor
Total power (static and dynamic)—up to 50% lower power
---
PolarFire FPGA Licencing
Different FPGA software licence schemes are available to suit your requirements, with a range of included features and validity periods. Find out more here or contact us if you need assistance selecting the right licence for your application.
---
Featured Products: