The demand for new innovative wireless sensors and actuators is increasing every year; a vast range of sensors have been developed to detect temperature, light, movement, vibration, pollution for applications (such as energy monitoring), asset utilisation, tracking, security, preventative maintenance etc., enabling businesses to save costs and improve efficiencies with these devices. The ability to instantly turn a device off remotely to prevent costly damage to machinery, if left unmonitored, could be invaluable.
If you are looking for a new wireless technology to integrate into your next sensor design, LoRaWAN technology from Microchip has been developed to address all these increasing demands on your next sensor project for volume deployment.
Microchip's LoRa technology solution is ready-to-run and out-of-the-box, and with the complete LoRaWAN protocol and certifications in place, it reduces time to market and saves development costs.
The LoRaWAN protocol is a Low Power Wide Area Network (LPWAN) specification intended for wireless battery-operated devices in regional, national or global networks.
LoRaWAN protocol targets key requirements of the Internet of Things (IoT) such as:
Secure bi-directional communication
Mobility
Localisation services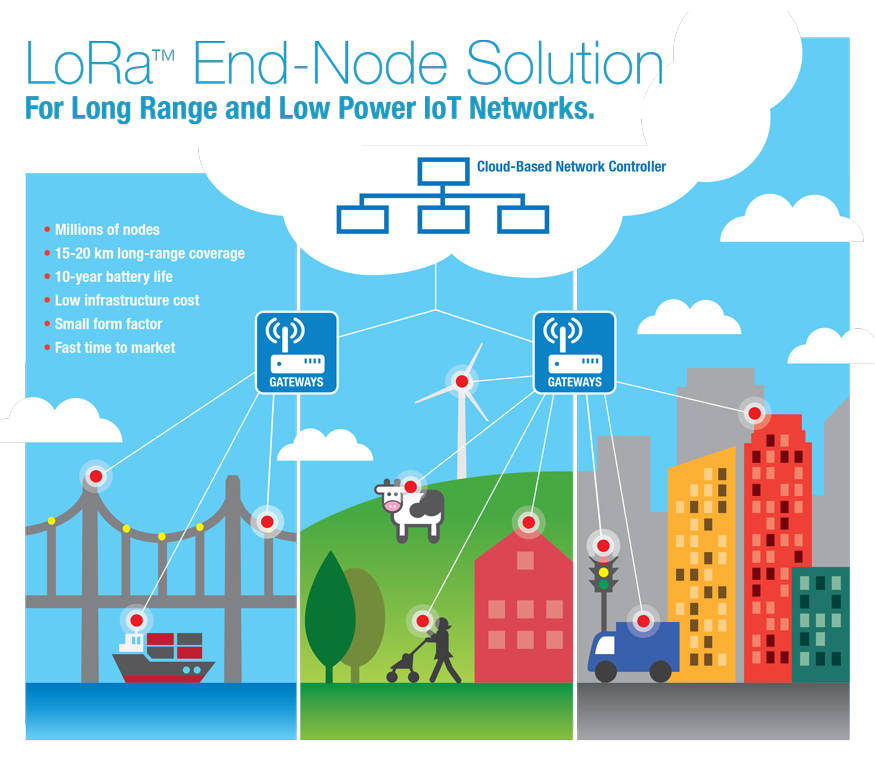 The LoRaWAN protocol standard will provide seamless interoperability among Smart 'things' without the need for complex local installations, further enabling IoT.
The LoRa® Mote (DM164138) is a demonstration board that showcases the Microchip Low-Power Long Range LoRa® Technology Transceiver Module (RN2483). The LoRa® Mote provides access to the module through a convenient USB-to-UART bridge chip and supports connection points to all GPIO-controlled module pins.
To enable long range testing, the high-frequency (868/915 MHz band) RF signal is transmitted through the RFH (J3) SMA connector, which can be used with a number of different types of external LoRa antennas depending on the end application, i.e. articulated stub antennas to external antennas which are designed to be mounted externally on buildings.
Depending on the use case, a selection of antennas is also available from Solid States Supplies. Examples by Antenova (Latona series), Pulse (W1063), 2J-Antennas (2JW0515-868 series) and EAD-Ltd (WMO86916 high gain outdoor omni antenna).

RN2483 (DM164138) and ATSAMR34 (DM320111) LoRaWAN evaluation kits from Microchip and range of antennaes from Solid State Supplies
The on-board PIC18LF45K50 MCU is programmable via ICSP™. In addition, the PIC18LF45K50 MCU application program is capable of being updated via the bootloader utility. The Mote board will power-on automatically when a USB cable is connected. When powered by AAA batteries, power-on/off is controlled using the (S3) switch.
The LoRaWAN protocol implements several layers of encryption to ensure the highest security for the whole infrastructure.
Unique Network session key ensures security on Network Server/Network level
Unique Application session key ensures security on the Application Server/Application level
Application key specific for the end-device
Microchip also offers the SAM R34/R35 in a highly-integrated LoRa® System-in-Package (SiP) family in a 6x6mm BGA package which includes an ultra-low power, high-performance 32-bit ARM Cortex M0+ MCU, upto 256KB flash for application code and software stack, LoRa transceiver and software stack. With certified reference designs, and proven interoperability with major LoRaWAN™ gateway and network providers, the SAM R34/35 SiPs significantly reduce time to market for Internet of Things (IoT) designs.
Other features on the R34/R35 are 5 serial comms ports, each can be configurable as a USART, SPI, LIN or I2C ports are available. A Full Speed USB option is available on the SAM R35. Also, 8 channels of 12bit ADC's and 2 analog comparators enables a variety of sensor inputs to be interfaced to the device.
The radio frequency range operates between 862MHz to 1020MHz with a link budget of 168dBm (20dBm max TX power and -148dBm RX sensitivity).
Supported by certified SAM R34 Xplained Pro Evaluation Kit (DM320111), Atmel Studio and a detailed chip-down design package, these devices highly simplify the development and accelerate the time to market for LoRa end-nodes.
To get started with software development, download and install Atmel Studio 7. For software examples, update to ASF 3.44 and above in Atmel Studio
For further information on the LoRaWAN technology in this article, please speak to one of our teams.