High Power Light Engines Generate Continuous Spectrum Light from UV to NIR with Stable Output and Long Life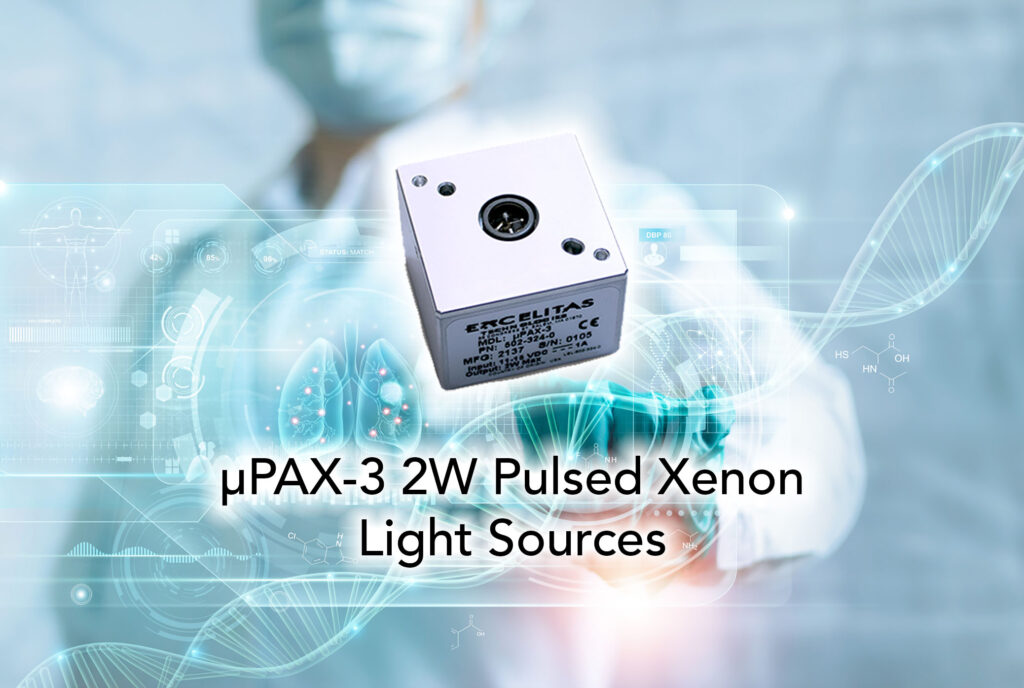 Redditch, UK: Solid State Supplies today announced that it can now supply Pulsed Xenon Light Sources from Excelitas, including the new µPAX-3 precision-aligned 2 Watt module.

Excelitas PAX Light Sources are compact, integrated light source solutions containing a flash lamp, trigger circuit, and power supply in an EMI-suppressant enclosure. The PAX family of compact, precision-aligned Xenon light engine modules is the ideal choice for clinical diagnostic, in-vitro diagnostics, life sciences, drug discovery, proteomics, and analytical instrumentation applications.

The new μPAX-3 is the next generation 2-Watt Pulsed Xenon Light Source, with a smaller, more robust design that is 17% smaller than its µPAX-2 predecessor. State-of-the-art electronics and a precision aligned flashlamp are packaged into a single light source capable of providing broadband light in microsecond pulses with exceptional arc stability.
Lorna Lawson, Excelitas Product Manager at Solid State Supplies, noted: "We are excited to be adding the PAX light sources to our existing portfolio of Excelitas products. These miniaturised modules can offer significant advantages over LEDs in analytical instrumentation and similar applications, particularly with regard to the broad and continuous spectrum of the light output."
"Excelitas takes pride in providing specialty lighting products and solutions that help to create a brighter, healthier and safer environment, so we are pleased to introduce µPAX-3 as an enhanced evolution of our µPAX-2 light source," said Mark Gaston, Product Manager at Excelitas. "µPAX-3 features guaranteed stability < 1% and precision arc alignment for easy integration and improved overall performance – all in a more robust and compact design compared to our µPAX-2. The µPAX-3 is an ideal solution for product designers and engineers developing small form factor analytical systems for point of care and field use applications such as medical analytics, water quality monitoring, environmental analysis and more."
Xenon flash lamps are confined arc flashlamps which produce microsecond to millisecond duration pulses of broadband light of high radiant intensities. Capable of operating at high repetition rates, these flashlamps generate light over a continuous spectrum from ultraviolet to infrared, at very high powers from 2W/25mJ to 60W/1J.
Key features of pulsed Xenon light sources include:
High Stability & Output Power
Inherently Pulsed μs pulses
High Stability: CV < 1% • Long Lifetime: > 1X 109 Flashes
Wide operating temperature
Wide continuous spectrum VUV through NIR
Applications include:
UV/VIS Spectrophotometer
Point-of-care Analytics
Environmental Analytics
Absorption Analysis
Fluorescence Trigger
Immunoassays
Microplate Readers
---
About Solid State Supplies Ltd
Solid State Supplies (part of Solid State plc) is a technical, franchised distributor serving the UK electronics community.
Solid State Supplies sells semiconductors, related components and modules for embedded processing, control and communications (both wireless and wired), sensing and switching, power management, and LED lighting. Focusing on products from a limited number of suppliers, the company understands its products in depth and offers customers outstanding levels of commercial and technical support. Solid State Supplies has particular expertise in end-to-end IoT solutions using modules, finished products and cloud connectivity, sensing and switching for Electric Vehicles and high-reliability components for military and aerospace applications, and sensing and switching for electric vehicles.
Solid State Supplies' Quality Management System accords with ISO 9001: 2015, AS9120, and AS9100.
www.sssltd.com
---
About Excelitas Technologies
Excelitas Technologies® Corp. is a leading industrial technology manufacturer focused on delivering innovative, market-driven photonic solutions to meet the illumination, optical, optronic, sensing, detection and imaging needs of our OEM and end-user customers. Serving a vast array of applications across biomedical, scientific, semiconductor, industrial manufacturing, safety, security, consumer products, defence and aerospace sectors, Excelitas stands committed to enabling our customers' success in their many various end-markets. Our team consists of more than 7,500 professionals working across North America, Europe and Asia, to serve customers worldwide.
Connect with Excelitas on Facebook, LinkedIn, Twitter and Instagram, or visit http://www.excelitas.com for more information.
Excelitas® and Excelitas Technologies® are registered trademarks of Excelitas Technologies Corp. All other products and services are either trademarks or registered trademarks of their respective owners.
---
For more information, please contact:
Solid State Supplies:
Rachel Sandeman
Emmett & Churchman Ltd
Tel: 07738 682833
Email: Rachel@ec-pr.com