We offer an extensive range of colour TFT LCD panels from 1.8″ through the popular 3.5″ and 5.7″ sizes to 82″. Our range includes sunlight readable panels from 5.6″ to 70″, bar cut panels, and SMART TFT displays with built-in control. We offer TFT displays with high brightness, high contrast ratio, wide viewing angle, wide temperature operation, longer lamp life, and lower power consumption.
TFT displays are used extensively in many industrial, commercial and scientific applications, including ATMs, POS terminals, kiosks, security systems, lottery and gambling gaming machines, medical equipment, factory automation, digital advertisement signage, transportation information, and marine equipment.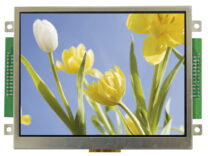 Our TFT modules are fully supported with a variety of options including wide operating temperatures, high brightness and contrast, built-in DC-DC and temperature compensation circuitry and most with white LED backlights. Resistive Touchscreens and Projected Capacitive Touchscreens are available for most models. Many panels can be configured as a kit – see our Interface Kits page for more details.
TFT technology is being used to replace Mono LCD in many applications, and Raystar Optronics now offers a 5.2″ TFT module designed specifically to fit the footprint of the industry standard RG24064-series 240×64 mono graphic STN LCD. The RFS520A can replace traditional STN displays of 8×2 or 16×2 format as it shares the same 16 pin footprint.
---