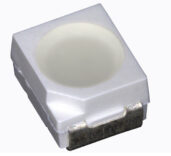 Ushio offers a number of high power VISLED (visible LED) ranges which can be used for high power lighting applications. These include SMBB, EDC, STEM and TO-66 STEM types.
Low Power Lighting LEDs
We offer a huge range of visible LEDs including high brightness, high CRI, single wavelength and multicolour, from our suppliers Ushio Excelitas and Kodenshi.
Excelitas offers an extensive range of standard CERLED® products in UV, visible and infrared spectrum. In addition to LED products on a ceramic substrate with high thermal conductivity, the CERLED® Family also features CERLED® phototransistors, photo-PIN diodes and wavelength selective photodiodes.
Excelitas' CERLED® Point Light LED is the ideal light source for various applications where a large light emitting area is not wanted. Point LED features include homogenous light output, wide viewing angle and a light emitting area of only 50 micron.