Solid State Supplies is pleased to welcome Efficient Power Conversion Corporation (EPC) as a new addition to our product offering. EPC is headquartered in California, USA, and was founded by Dr Alex Lidow, co-inventor of the HEXFET and formerly CEO of International Rectifier.
EPC is the leader in Gallium Nitride (GaN) based power components; GaN is a wide bandgap semiconductor material which is ideally suited to displace conventional Silicon MOSFETs.
Tom Freeman, Product Manager at Solid State Supplies said "wide band gap semiconductor technologies such as GaN promise to play a key role in the green energy revolution, increasing efficiency significantly over traditional Silicon. Our partnership with EPC allows us to engage with this fast-growing market which is critical to the future of the UK electronics industry".
The key advantages of GaN semiconductors over traditional silicon semiconductors are:
Lower on resistance giving lower conductance losses
Faster devices yielding fewer switching losses
Less capacitance resulting in fewer losses when charging/discharging devices
Less power required to drive the circuit
Smaller devices meaning less space is taken on the printed circuit board (PCB)
GaN is inherently significantly more resistant to radiation effects
"Solid State Supplies' knowledge of the market, along with their extensive history and proven successful track record for working with customers make them a perfect partner to represent EPC's industry-leading, off-the-shelf eGaN FET and IC product line," commented Nick Cataldo, EPC vice president of sales and marketing.
For any enquiries, please contact Tom Freeman on +44 (0)1527 830800 or email Tom.Freeman@sssltd.com.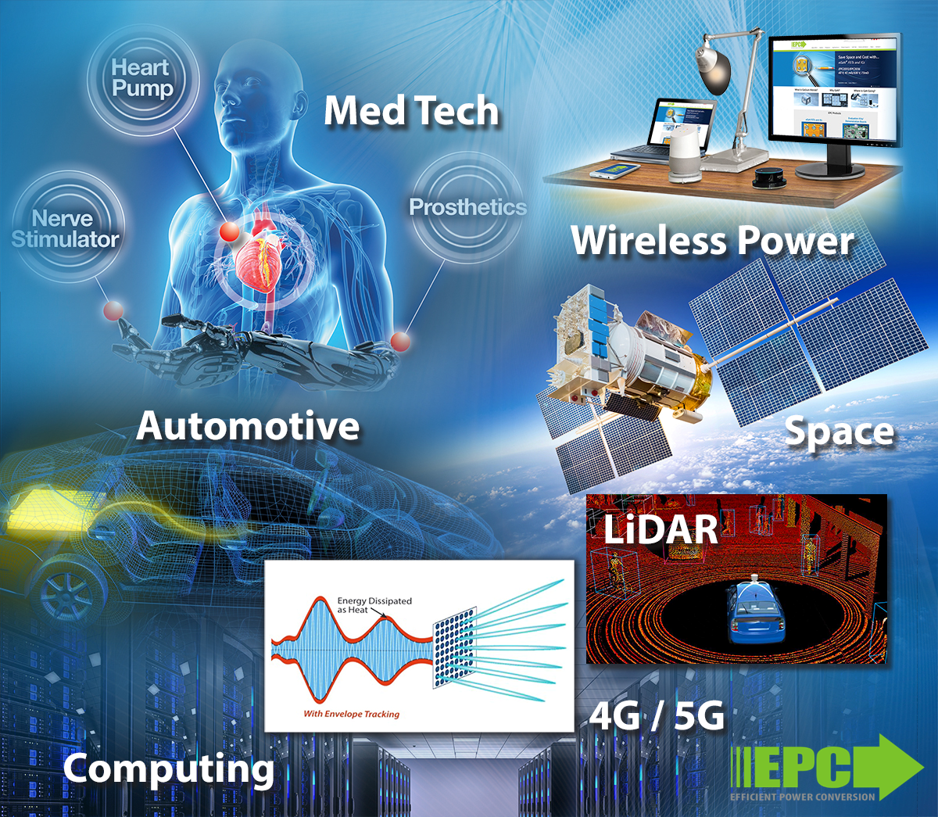 About EPC
EPC is the leader in enhancement mode gallium nitride based power management devices. EPC was the first to introduce enhancement-mode gallium-nitride-on-silicon (eGaN) FETs as power MOSFET replacements in applications such as DC-DC converters, wireless power transfer, envelope tracking, RF transmission, power inverters, remote sensing technology (LiDAR), and Class-D audio amplifiers with device performance many times greater than the best silicon power MOSFETs. EPC also has a growing portfolio of eGaN-based integrated circuits that provide even greater space, energy, and cost efficiency.
Visit our web site: www.epc-co.com
eGaN is a registered trademark of Efficient Power Conversion Corporation, Inc.